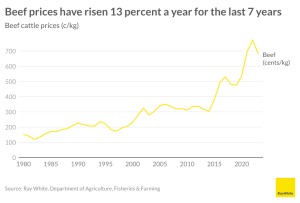 The last two years have been particularly positive for regional Australia. We have never seen so many people move there and record production, and prices, for agriculture and strong mining conditions resulted in high demand for all types of property. We are however now in a very different time. While pandemic restrictions have ended, flooding in many parts of Australia, interest rate rises and an impending global economic slowdown is changing the outlook. 2023 is looking to be quite a different year for rural and lifestyle properties.
The first big change in 2023 will be agricultural production and pricing. In 2022, we hit record levels of agricultural production, with total value hitting $85.4 billion. More than half this value was driven by four commodity types. These were beef, wheat, canola and fruit and nuts (excluding grapes). All of these were in high demand in 2021 and 2022, particularly as economic growth rebounded. Australia was also able to produce more than other parts of the world – drought, snow, the pandemic and war restricted production elsewhere while good weather helped Australian production.
Already however, the outlook is looking quite different. Demand for cattle remains high but lower economic growth and greater production elsewhere is pulling back prices. Wheat prices are remaining steady for now but are expected to come off as the US comes back from drought and flooding impacts many Australian crops. Canola production is also expected to be reduced from flooding, while adverse weather conditions are also impacting some fruit and nut crops. Overall agricultural production value is likely to remain at historically high levels but will be lower than those experienced in 2021/22 and this will impact farm values.
The second change is the impact of rising interest rates. Interest rate rises reduce the capacity to borrow, limiting price growth. But can also result in rising stress for mortgage holders. While it is unlikely we will see very high levels of mortgage stress, particularly given that banks are so profitable and well capitalised at the moment, the restriction to the amount people can borrow is already impacting values. This is across all of Australia and all property types.
The second change will be demand for second homes, particularly holiday homes and lifestyle properties. The pandemic resulted in record levels of holiday home demand. Travel restrictions meant that holidays close to home were popular and low interest rates made it easier to get a loan. Interest rates are increasing and travel is opening up again. Added to this are many regional areas struggling with long term rental shortages and some local councils are cracking down on homes that are vacant for extended periods. This will all make owning a holiday home less desirable.
2023 will still be a good year for regional Australia. However as we come off record agricultural production, wrestle with rising interest rates and start to get back to our pre-pandemic lives, it will be a much slower year for property price growth.